Oooookay...so. For those of you who are unfamiliar with what an ARC is, it's an abbreviated form of Advanced Reader's Copy, or Advanced Reviewer's Copy. They're not exactly the same, but that's a minor technicality I'm not going to worry about at the moment. The below reviews were for books I've won from Goodreads' giveaways. Most of them have taken forever for me to read, but nonetheless, I read them. Some of them were a complete bore, and some turned out to be all right. Needless to say, these were not the best books I've ever read.
Title: Paint
Author: Grace Tiffany
Read: December 10, 2014-May 28, 2015
Rating: 3 out of 5 stars
I won this book from Goodreads First Reads. When I first read the synopsis for this book, I was curious and quite interested, so I entered the giveaway. Awhile later, I received an email saying I won! I was ecstatic, so when I received the book in the mail, I stopped whatever book I was reading, and started reading this one. This all happened a year ago, and now you're probably wondering why I only wrote the review now. Well, that's because I only finished the book now. Let me explain why it took me so long...
I DISLIKED...
THE PACING. Maybe it was just me, but I found that the story was a bit choppy, and didn't quite flow enough for my liking. I know many books don't continue from one second to another, but for some reason, in this book, this really irked me.
THE SENTENCE STRUCTURE/LANGUAGE. I knew from the start that this book was from Shakespearean time, and that it was based off one of his poems (Dark Lady?), so I should have seen this coming. Maybe I kind of did, but I honestly didn't expect for the language to be
that
hard to understand. This was such a big determent for me. It was really hard to get into this book because of this...
These two factors were the main reasons why it took me so long to finish this book. After reading through the first few chapters, my excitement slowly decreased, and I was easily distracted by other books, which lead to other books, and so on. So a year later (a few days ago), I finally decided to finish reading this book.
I LIKED...
THE PLOT. Despite not understanding much of the language, I am proud to say that by the time I finished reading the last word in this book, I can confidently say that I understood the book as a whole, even if I didn't exactly understand every single word. I can also proudly say that I quite enjoyed the story, and how it ended.
Overall, not too bad, but I probably won't pick up another Shakespearean book for some time, at least until I can understand more of this strange, strange language. :)
____________________________________________________________________________________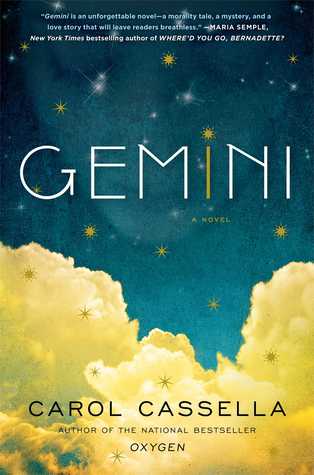 Title: Gemini
Author: Carol Cassella
Read: December 19, 2013-January 19, 2014
Rating: 4 out of 5 stars
Woo hoo, I won this book for free through Goodreads First Reads.
I don't usually read these kinds of books, but for some reason I decided to give this one a try.
I have to admit that the beginning was a bit slow for me. I think it's either because it's not exactly my reading style, or, this book was aimed at readers that are older than me.
I feel like I should read the first half of the book again because embarrassingly, I don't think I was very interested in the book in the beginning, and the description on the back of the book seemed way more interesting than the actual story, I feel like I was rushing through it trying to get it finished, like a chore...
But once I got near the middle, I started to see how Charlotte and Raney's stories were connected.
After I realized this, I enjoyed the book much, much better.
I liked reading about both sides of the story, and noticed the hints I missed before, I did have to go back near the beginning to reread stuff I missed.
The ending satisfied me, and the book as a whole is great.
____________________________________________________________________________________
Title: Analinde: The Chronicles of Loresse (The Chronicles of Lóresse, #1)
Author: Melissa Bitter
Read: December 23, 2013-January 2, 2014
Rating: 4 out of 5 stars
Yay, I won this book from Goodreads First Reads!
OK, so, Analinde is about a young elven mage named Analinde.
Her parents were killed by humans one day, so she alerts all the other elves, and goes to Miredell, a school to seek better training. While there, she realizes that she has much potential and learns all the spells and techniques very quickly. She also tries to find a way to avenge her dead parents by learning as much as she can on her own, from books in the library. At the end, she uses all her skills to help in the downfall of the humans who killed her parents, and ta da! Happy Ending. Kinda...
I have to say the first 3/4 of the book was very slow for me, and I sometimes found myself skimming through the pages, I would have rated it one, maybe two stars, but the last section of the book, really grabbed by attention. It was very exciting, and I looked forward to reading it, and knowing what would happen next. When I finished the entire book, and looked at it as a whole, I found that I liked it quite a bit. I'd rate it 4 stars, because even though the majority of the book was slow, and maybe a bit boring, the last section really made up for it, and it was amazing. I can't wait to read the next one!
____________________________________________________________________________________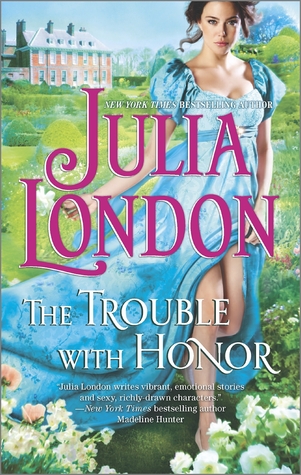 Title: The Trouble with Honor (The Cabot Sisters, #1)
Author: Julia London
Read: Nov 25-Dec 10, 2014
Rating: 4 out of 5 stars
Wow! This book was great!
I won this book through Goodreads First Reads.
I'm horrible at writing reviews, but here goes...
The Trouble with Honor is about Honor (obviously). She is very wealthy, has a high status, and lives with her three younger sisters, and her sick mother. One day, her stepbrother decides to get married to a girl, Monica. Problem: Monica doesn't want to share a house with Honor's family. Unfortunately for Honor, she doesn't want to get married yet, so she can't take care of her family if she gets kicked out of the house. Her solution: find someone handsome enough to make Monica change her mind about the wedding. Her someone is George Easton, known for his good looks and his ability to make all women fall head over heels for him. Over the course of this book, another problem arises: Honor finds herself liking George more than she should, and her scheme starts to fall apart.
Any who...that's the gist of it...
This was my first historical fiction, and I absolutely loved it. I loved so many things about this book. Gosh, where to start, where to start? Well, for one, I liked how all of Honor's sister's names are a virtue: Grace, Prudence, and Mercy. I also liked that it was a very fun, and easy read, I especially loved reading the conversations between Honor and George. How they talked of Honor's boldness, and how much they loved each other. The one thing that kinda frustrated me was the ending. Honor had her happy ending, but I got to know a little bit more about Grace, which was nice, but then it ends with a scene that slightly confused me. It left me with a cliffhanger...I will definitely be reading the next one because of that ending.
____________________________________________________________________________________
Title: The Last Enchantments
Author: Charles Finch
Read: Feb 3-Nov 24, 2014
Rating: 3 out of 5 stars
Wow...it took me almost a year to finish this book. I started it, but got distracted, and started again...
Anyways, this book was not too bad, this genre was a huge change from what I normally read, so I think three stars is reasonable.
So. This story is mainly about Will, who moves to another country, away from his girlfriend, Alison, to go to a school called Oxford. While there, he meets a lot of new people, most of them befriends him. He also starts to fall in love with another girl. Uh oh. Problem is, she has a boyfriend. Another uh oh. I just realized, that this book has a lot of relationships. Meaning, there are lots of mini plots where Will's friends become couples. They all have their own small stories with problems, resolutions, and their own happy endings, kinda. Will also has to make a lot of big decisions about his life. He had to choose whether or not he would go back to New York, after a year of staying in Oxford, where he will be reunited with his girlfriend, or stay in Oxford.
I got a bit bored in some parts of the book, I actually skimmed through most of the parts that didn't include any conversations, of course, there were some parts where I was very interested, and read every word, but I feel maybe this book could be a bit shorter, without a lot of the of explanation parts. But that's just me (it probably is) I usually don't pay much attention to description, once I have a good idea of where the story takes place, I focus more on the conversations.
I hope there is a sequel, I don't think I'm quite satisfied with the ending I got.
I received this book from Goodreads First Reads.