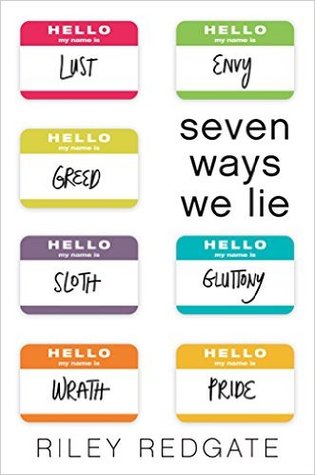 Read: Jan. 13-March 24, 2016
Rating: 4 out of 5 stars
Pages: 352
Genres: contemporary, realistic fiction
Blurb from Goodreads:
"Paloma High School is ordinary by anyone's standards. It's got the same cliques, the same prejudices, the same suspect cafeteria food. And like every high school, every student has something to hide—whether it's Kat, the thespian who conceals her trust issues onstage; or Valentine, the neurotic genius who's planted the seed of a school scandal.

When that scandal bubbles over, and rumors of a teacher-student affair surface, everyone starts hunting for someone to blame. For the unlikely allies at the heart of it all, the collision of their seven ordinary-seeming lives results in extraordinary change."
Confession: I procrastinated the reading of this book. BAD.
I started off reading a few pages, but because it was on my kindle, I neglected it for some time, and only resumed a few months later....when I realized this ARC has publication date coming up very soon. Then I read...and read...and read. And seeing as how this is one of the first galleys I've requested...and was accepted for...I am deeply ashamed of my reading habits. Ah wells.
So!
At the start of the book, I have to admit, I was far too easily confused with all the characters...I had trouble keeping track of who was who, and who has done what and why. It was frustrating. But after I hit the midpoint in the book, things were going smoothly, and I quite enjoyed how the story was unfolding. Yay!
Let's see here...we had...
Olivia and her little sister, Kat(rina)-they had their parent issues...their mom left them at a young age, and life with their dad...hasn't been the greatest.
Claire-a girl with serious insecurity issues
Matt-a guy who is also dealing with difficult parents...and nursing a c
Lucas and Valentine-a sweet relationship I really enjoyed reading about
Juniper-a girl with big SECRETS
After I had all the characters figured out, I was delighted to find that the characters all had their own little dilemmas to solve, while simultaneously also having to deal with one major problem. One of the side stories I enjoyed most was Olivia and Kat's. I found it interesting how they were left with their dad and not their mom...maybe I don't read enough books, but aren't the mothers usually stuck with the kids? Anyways...I was overjoyed at how Olivia and Kat solved their issues with their dad. I can only hope my parent issues get resolved, too.
The cover! Yes, the cover. This was one of those books I picked because the cover interested me. I suppose it was the seven different "evils" that drew my attention, I guess? Buuut, I feel the cover doesn't match the story...but, heh...it got me to read it!
Another thing...the ending seemed kinda...lacking.
I would have liked a more complete, a fuller conclusion...but...I suppose the somewhat abrupt ending had its justifications. I felt like I read a 94857928475029387 paged book only to have the book start to conclude in the last 5 pages....I would have liked to see more of what happened after everything had been resolved and things went back to "normal". Ah wells.
What was the last thing you procrastinated on? Don't lie...I know procrastination gets to even the best of us.