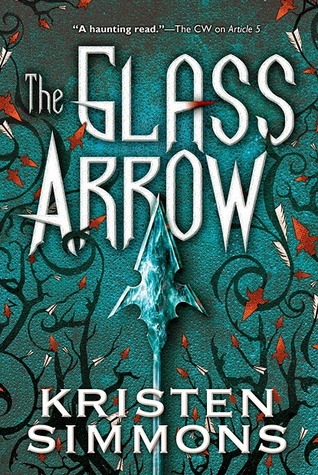 Read: Oct. 22-27, 2015
Rating:
2 of 5 stars
Pages: 336
Genres: Dystopia, romance
Synopsis from Goodreads:
"The Handmaid's Tale meets Blood Red Road in Glass Arrow, the story of Aya, who lives with a small group of women on the run from the men who hunt them, men who want to auction off breeding rights to the highest bidder.

In a world where females are scarce and are hunted, then bought and sold at market for their breeding rights, 15-year old Aya has learned how to hide. With a ragtag bunch of other women and girls, she has successfully avoided capture and eked out a nomadic but free existence in the mountains. But when Aya's luck runs out and she's caught by a group of businessmen on a hunting expedition, fighting to survive takes on a whole new meaning.

"
My Review
I started reading this book with high expectations, and judging from my 2 star rating, you can probably safely assume that my expectations were not met. The premises was definitely alluring, this was the first time I've read a book with the ideas of females being rare. I really wished that this book could have turned out better, it had lots of potential, but...
The characters didn't appeal to me at all. They were all okay, none of them really stood out, which is...disappointing...sigh
There was action, yes, but not as much as I would have liked. Truth be told, the main reason why my rating was so long was because I was bored through most of it. There were things happening, yes, but nothing critical, I feel as though this book didn't quite have a solid plot, and the one that they did have was far from satisfying. That being said, I might stay away from these books for awhile since this one disappointed quite a bit.
I'm not too sure if I'm glad there is no sequel that I know of, or if I'm sad. If there was a sequel, I suppose there would have been a chance for this series to redeem itself, but then again, I don't exactly want to be disappointed again, do I? No. I don't...
Girls:
how do you think you'd fare if women were scarce and were hunted? Would you be easily captured and obediently auctioned off? Or would you fight?
Guys:
I want your honest opinion...what would you do in a world such as this?