Wow...where do I even start?
This series is so epically awesome!
This series is fantastic!
Marvelous!
Fantabulous?!
Superb!
Splendorous! Splendiferous!?
Stunningly unrivaled?! Gloriously splendid!
Majestically marvellously magnificent!
Anyways...I'll just get on with this...
Again...here's a compilation of all my reviews from this series...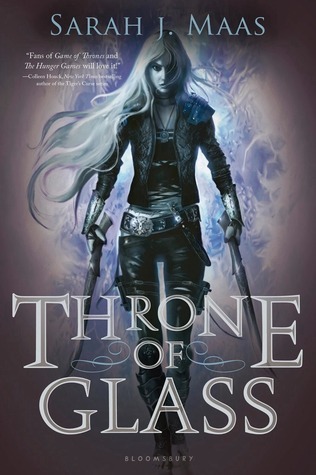 Title: Throne of Glass (Throne of Glass #1)
Read: February 10-18, 2015
Rating: 5 out of 5 stars
Pages:
Wow! I really loved this book. I only wish I read this sooner. It's been on my TBR list for a really long time, but I never really thought about reading it until recently. When I first saw the cover of this book, it didn't really strike me as something I'd read, but because I heard so many good things about this book recently, I finally decided to read it. And I'm so, so glad I did.
What I liked:
THE ACTION. The last hundred pages or so of the book were amazing. I was flipping pages so quickly, absorbing every single word. I felt as if I were actually there, experiencing everything along with the characters. The beginning did give me a good idea of the setting and the situation, but it was nothing compared to the end.
THE LACK OF ROMANCE. Sure, it had it's moments, but I liked that the romance didn't dominate and overwhelm the rest of the book. I am so tired of reading pages and pages about love triangles, and which guy is Mr. Right. I loved that this book didn't have that. Although this book didn't have much romance, I think I'd like to see Celaena actually develop a strong relationship with one of the guys in the next book. I'm hoping it's Chaol because he didn't really get a chance in this book, but Dorian would be okay too.
THE HUMOUR. There were several times, when I actually laughed out loud. This is one of those rare books, that can actually make me do that. One of those times was on pg. 211-ish. I loved reading about how badly Celaena played billiards.
THE SHORT CHAPTERS. I know that even though the chapters are short, it doesn't make the book any shorter, it still has the same number of pages, but with the short chapters, it really made the book go by that much faster. I'd tell myself: one more chapter, it's only five pages, then I'd see the next chapter, and I'd think: it's only three pages...and somehow, I find myself reading over a hundred pages in one sitting.
LEARNING ABOUT CELAENA'S FLAWS AND TALENTS. I know Celaena is the world's greatest assassin. And she was specially trained by the King of Assassins and all that. But she has other talents beside that. Her musical ability with the piano, for example. I really wasn't expecting that, and I absolutely loved it. And as for her flaws, see the humour section about billiards. I also liked reading about the two sides to her. She can be a ruthless assassin, who kills just as easily as breathing, but she can also be kind, caring and considerate of others.
THE NAMES AND PLACES. Most of these names, I've never heard of before. And I liked that there was a pronunciation guide on the back. It may sound like I'm exaggerating a bit, but knowing how to pronounce these names properly, instead of just sounding it out myself, made these characters much more appealing. Oh, how I loved these characters.
What I disliked:
Hmmm...this is hard. I don't think there is anything that bothered me enough that I feel is worth the need to mention. Yes, this book is that good.
*hmm, I wonder why the Celaena on the kindle and hardcover books look nothing like the Celaena on the paperback...
Based on my review, you probably already guessed it, but I'm going to say it anyways. This book was awesomely amazing. And I will definitely be reading the next one soon. I will also be recommending this book to all my friends. I will annoy them until they promise me to give this book a try, or at least look at it. I need someone to talk to about this book. Anyone who is even considering this book, should stop considering and read it already. You won't regret it. I sure didn't.
___________________________________________________________________________________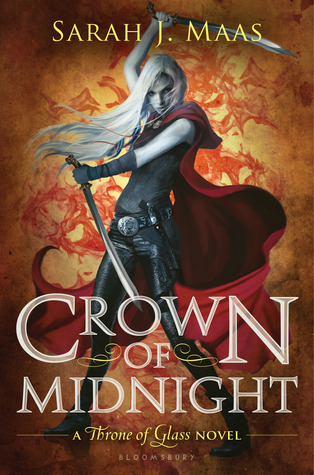 Title: Crown of Midnight (Throne of Glass #2)
Read: March 7-13, 2015
Rating: 5 out of 5 stars
Pages:
Where do I start? This book was amazing! I loved this ALMOST as much as the first one, and I loved the first one a lot. This series has forever changed my life. I will never look at another book the same again. My mind was so wrapped up in the story, if I wasn't reading it, I was either thinking about it, or babbling on and on to my sister. I think she hates me now...
WHAT I LIKED:
Honestly, I don't know what I can say that hasn't been said already. The characters were wonderful, the action was awesome, and the romance! Oh! The romance was so...so...I can't even accurately describe it with words. If you read it, you'll know what I mean. For the first half or so of the book, I loved that Celaena finally picked a guy (Chaol)and from what I could tell, she was going to stick with him, and everything was beautiful and lovely. Yay! But then, THAT happened. And I was absolutely devastated. Why?! Why, why, why, WHY?! I really, really, REALLY hope that Celaena will forgive him, and get back together with him. My heart broke a little every time I read about how Celaena treated him afterwards. In case you haven't noticed, I am definitely on Chaol's side, and I think Celaena treated him way too harshly. Is it too much to ask that two people who clearly love each other, be together?! Apparently, it is...
WHAT I DISLIKED:
This book is PERFECT. Absolutely PERFECT!
THOUGHT #1: Is it just me, or does the author look a lot like Jennifer Lawrence?
THOUGHT #2: The title though...what does Crown of Midnight have anything to do with the story?
THOUGHT #3: I thought Celaena's hair was gold, why is it white on the cover?
THOUGHT #4: Why do all my thoughts end in ?s?
I adore this series, and I can't wait to read the next one!
____________________________________________________________________________________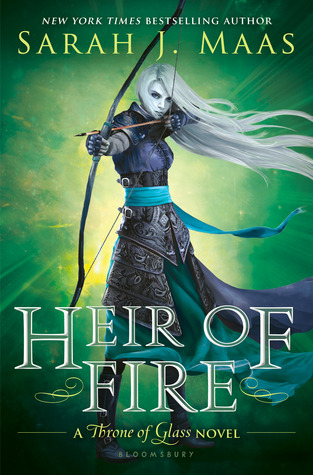 Title: Heir of Fire (Throne of Glass #3)
Read: May 29-June 23, 2015
Rating: 4 out of 5 stars
Pages: 562
Genre(s): Fantasy, Adventure
Here's the synopsis from Goodreads:
"
She was the heir of ash and fire, and she would bow to no one.

Celaena Sardothien has survived deadly contests and shattering heartbreak—but at an unspeakable cost. Now she must travel to a new land to confront her darkest truth...a truth about her heritage that could change her life—and her future—forever.

Meanwhile, brutal and monstrous forces are gathering on the horizon, intent on enslaving her world. To defeat them, Celaena must find the strength to not only fight her inner demons but to battle the evil that is about to be unleashed.

The king's assassin takes on an even greater destiny and burns brighter than ever before in this follow-up to the New York Times bestselling Crown of Midnight
."
Review:
Wow...okay. I had mixed feelings about this book, so I guess I'll separate my review into two sections.
Heir of Ash
The first half of the book was incredibly boring. Well, it was okay, but compared to the first and second books, it really failed to bring much needed action. It took me forever to read through teach page. Although I did get lots of character development, I still would have preferred more action.
Heir of Fire
Now this was where it finally got interesting. When I reached the halfway point, I was constantly reading. It was so much better! It was so much more exciting, and things were finally picking up, and going at a much more desirable pace. This was the section where Celaena or Aelin finally embraced her destiny...and it was awesome.
I should mention that my opinion of Rowan changed dramatically between the sections. Mostly because I got to learn more about him. I also wished that Chaol and Aedion could have met Celaena in this book...ah well...
I can't wait to read the next book, Queen of Shadows!
_________________________________________________________________________________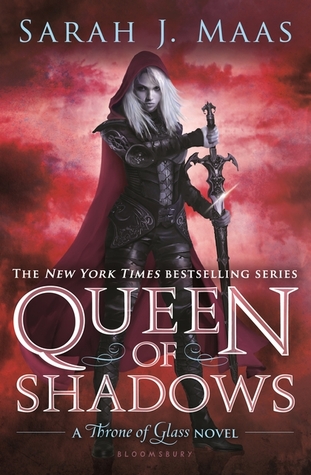 Title: Queen of Shadows (Throne of Glass #3)
Read: Nov. 12-24, 2015
Rating:
4 of 5 stars
Pages: 648
Genres: action, fantasy, adventure
Synopsis from Goodreads:
"
The queen has returned.

Everyone Celaena Sardothien loves has been taken from her. But she's at last returned to the empire—for vengeance, to rescue her once-glorious kingdom, and to confront the shadows of her past…

She has embraced her identity as Aelin Galathynius, Queen of Terrasen. But before she can reclaim her throne, she must fight.

She will fight for her cousin, a warrior prepared to die for her. She will fight for her friend, a young man trapped in an unspeakable prison. And she will fight for her people, enslaved to a brutal king and awaiting their lost queen's triumphant return.

The fourth volume in the New York Times bestselling series continues Celaena's epic journey and builds to a passionate, agonizing crescendo that might just shatter her world."
My Review
Oooooookay, so, for a book that had a lot of excitement revolved around it, I found this book...lacking. The other books were beyond amazing, this book was just...good. DISAPPOINTING.
Anyways...for a book with over 600 pages, I was surprized that I didn't find many filler chapters, and speaking of chapters...the chapters were short! YAY! I love short chapters, they seem to make the book fly that much faster...
In the previous books, I was rooting for Chaol in the whole love triangle thingamajig...and I was so convinced that nothing I read would sway my opinion. I was THAT firmly rooted for Chaol...but this book proved me wrong. As much as it pains me to admit this, Chaol ISN'T good for Aelin...and plus...he has this other girl now...
And...ohmygosh! Lysandra! Remember that awful character in the previous books? The one that was always EVIL, and MEAN, and all sorts of nasty? Well, she now plays quite a big role in Aelin's life! And now I view her in a completely different light. A positive light at that.
But really...Rowan and Aelin are definitely better for each other than her previous matches.
I'd say a lot of other stuff like, "oh, Aelin has changed and grown so much as a person and as a queen, and she has finally understood her responsibility, and has started to take action", but I'm sure we all can assume that she DID change, right? I mean, when you read 4 books that were 300-600 pages long, said character MUST have changed in SOME way, right? RIGHT?
Right.
I rest my case.
I can't exactly pinpoint a bad point for this book, it was just...OKAY...sigh...it really is disappointing when a book disappoints...
And...oh! Would you look at that, there's another two books in this series...hmm...
_________________________________________________________________________________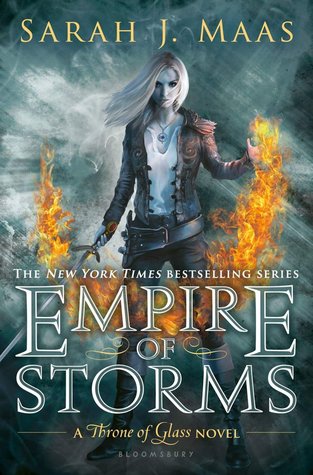 Title: Empire of Storms
(Throne of Glass #5)
Read: Dec. 2-19, 2016
Rating: 5 out of 5 stars
Format: Hardcover, 693 pages
Publication: September 2016 by Bloomsbury Children's Books
Blurb from Goodreads:
"
KINGDOMS WILL COLLIDE.

The long path to the throne has only just begun for Aelin Galathynius as war looms on the horizon. Loyalties have been broken and bought, friends have been lost and gained, and those who possess magic find themselves at odds with those who don't.

With her heart sworn to the warrior-prince by her side, and her fealty pledged to the people she is determined to save, Aelin will delve into the depths of her power to protect those she loves. But as monsters emerge from the horrors of the past, and dark forces become poised to claim her world, the only chance for salvation will lie in a desperate quest that may mark the end of everything Aelin holds dear.

In this breathtaking fifth installment of the New York Timesbestselling Throne of Glass series, Aelin will have to choose what—and who—to sacrifice if she's to keep the world of Erilea from breaking apart.
"
My Review
Oh....mygoodness!

This book was amazing! And that ending! Wow!

I cried! I actually cried!

I'm not sure where....but I read or saw somewhere that this would be the last book in this series?! I kept looking between the page I was on and the last few pages...and wondering how in the world the story will end in so few pages....well, I know my answer now! This isn't the last book! Woo! The next book will be the last book.....

All good things must come to an end, right?

*sigh*

I don't even know where to start with this one....

The characters?

Sure, let's start with the characters....Aelin....Aelin....she's so...AWESOMEly.......GLORIOUSSSSS! And clever! And brave! And selfless! And witty! And incredibly powerful! And just a fabulous person to read about.

And Rowan! And Aedion! And Lysandra, too! I love them all! They're all so fantastic, and loyal (most of the time) to Aelin. Their devotion to her...is...amazing.

And then there's Lorcan....and Maeve.

UGH, just when I was starting to like him.....UGH. By the end of the book...I outrighted despised him....UUUUUUUUUGH!

And Maeve....grrr! I mean...in a way, I like what she did at the ending....it made the story SO much more interesting....and....it's part of what made me FEEEEEEEEEL!

Elide, Manon, and Dorian....eh....there were nice...and interesting to read about....especially how Dorian's magic has grown so much...and how he can wield it with such....efficiency? No...that's not the right word....with such...powerful....intelligence? Eh....

Enough about characters....plot.

No complaining here! None at all! The ending was amazing....amazingly....cliffhanger-y....and it worked so well!

I want the next book....NOW! NOOOOOOOOOOOOOOOOOW!

What is the thickest book you've read? How many pages? And no...dictionaries and encyclopaedias don't count.