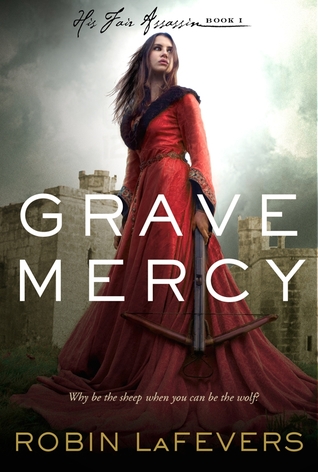 Read: Sept 26-Oct 6, 2015
Rating:
4 of 5 stars
Pages: 550
Genres: historical fiction, mystery, romance, adventure
Synopsis from Goodreads:
"
Why be the sheep, when you can be the wolf?
Seventeen-year-old Ismae escapes from the brutality of an arranged marriage into the sanctuary of the convent of St. Mortain, where the sisters still serve the gods of old. Here she learns that the god of Death Himself has blessed her with dangerous gifts—and a violent destiny. If she chooses to stay at the convent, she will be trained as an assassin and serve as a handmaiden to Death. To claim her new life, she must destroy the lives of others.

Ismae's most important assignment takes her straight into the high court of Brittany—where she finds herself woefully under prepared—not only for the deadly games of intrigue and treason, but for the impossible choices she must make. For how can she deliver Death's vengeance upon a target who, against her will, has stolen her heart?"
Review
Like may of the books I've been reading as of late, this has been on my TBR list for quite some time, before I finally decide to smack myself and read it already! I seem to remember hearing great things about this book, but it could have been another book that looked similar...no! I believe it was the third book that caught my attention, so I decided to read the first one so that I could read the third one...hmmm...no matter, I have finally read this, and now I will review it....
This book was chunky, and this could either be a good thing or a bad thing, in this case, it was a bad thing. When I think back to what I've read, I don't remember much of what happened in the first 350 or so pages. It was only at the 400 mark that things started to happen and I started to get excited.
Ismae's relationship with her saint/god was commendable. I really enjoyed reading a book where the main character was as devoted as Ismae was with her God. Granted, it did become a bit of a nuisance at times, but it was quite enjoyable as a whole.
I feel as if the side characters didn't get much of an appearance. Yes, I realise that this is normal since they
are
side characters, but I really would have liked to have seen and learned more about Beast and de Lornay. They were immensely interesting and I'm quite disappointed with how they met with their fate.
When I finally flipped to the final page of the book, I expected there to be a sequel, but apparently, there is not. There is a companion novel of sort, I suppose, but it is mainly about Sybella, a girl from Ismae's convent. I'm not too sure if I will pursue this series since I'm not looking forward to yet another (probably) chunky book, but I'd hate to leave any series unfinished, and according to the reviews I've read for the next two books, it seems to get better. That's good news...