This is one of "those series" that I really,
really
love. Really.
As you can clearly see, I read the first book in 2013, hence the ridiculously short review. BUT! When I continued the series in 2015, my reviews became much more sophisticated (I hope).
Title: Alice in Zombieland
Read: Nov. 16-24, 2013
Rating: 5 out of 5 stars
Omg, I loved this!!!!!
____________________________________________________________________________________
Title: Through the Zombie Glass
Read: Jan. 19-25, 2015
Rating: 5 out of 5 stars
This. Book. Was. Amazing. Wonderful. Extraordinary. Magnificent. Spectacular. And all the other words that mean awesome.
I don't think there are words good enough to express my love for this book...
I read the first book about a year ago, and I was afraid it would be hard getting into this one because I have forgotten most of the characters and I only had a vague idea about the plot. I also hardly remembered their minor problems, who's in a relationship with who, and who is bad/good. But as soon as I started the book, I knew it wouldn't be a problem, and I would enjoy this book as much as I did the first, if not, even more.
Besides loving this entire book, there was something specific that I loved, but I can't pin it down just yet. I also loved the ending. It was wrapped up very nicely, and there was no cliffhanger, which I was very thankful for. There were solutions to problems, which I didn't expect would be found till the next book. So...YAY!
One teeny tiny, miniscule, thing that only slightly annoyed and frustrated me in the smallest of ways was Ali and Cole's relationship. I love this couple, and I hate to see them miserable, so when they broke up, I was as heartbroken as them. But this hardly detracted from the awesomeness of this book.
I loved this book so much, that I think I hate it...if that makes any sense. It started with the thought of reading just a few pages, to actually reading a few pages, which turned out to be a few chapters...when I was finally forced to stop reading. I hardly talked to anyone the few days I was reading this book, and was snappy at anyone who dared disturb me while I was enjoying this wonderfully breathtaking good book. Even when I was forced to stop, my mind was still in that book, I couldn't concentrate for the rest of the day. My mind was coming up with all the different scenarios that could happen next. I just had to finish this book, and my mind couldn't be at peace until I finished it, and knew what happened. Finishing this book had become my top priority, everything else could wait.
I can't wait to get my hands on the next book. I've already read the synopsis, and I'm just so excited. If I don't get the next book within the next week, I think I might go insane...really.
____________________________________________________________________________________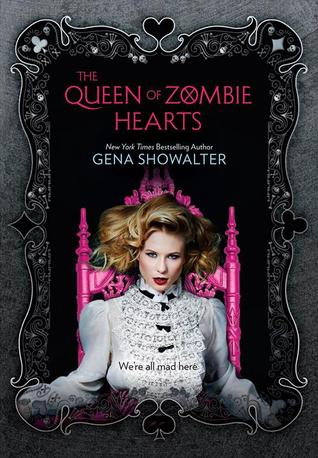 Title: The Queen of Zombie Hearts
Read: July 27-Aug 2, 2015
Rating: 5 stars
Pages: 464
Genres: Horror (zombies), fantasy, romance
Here's the synopsis from Goodreads:
"

I have a plan.
We'll either destroy them for good, or they'll destroy us.
Either way, only one of us is walking away.

In the stunning conclusion to the wildly popular White Rabbit Chronicles, Alice "Ali" Bell thinks the worst is behind her. She's ready to take the next step with boyfriend Cole Holland, the leader of the zombie slayers…until Anima Industries, the agency controlling the zombies, launches a sneak attack, killing four of her friends. It's then she realizes that humans can be more dangerous than monsters…and the worst has only begun.

As the surviving slayers prepare for war, Ali discovers she, too, can control the zombies…and she isn't the girl she thought she was. She's connected to the woman responsible for killing—and turning—Cole's mother. How can their relationship endure? As secrets come to light, and more slayers are taken or killed, Ali will fight harder than ever to bring down Anima—even sacrificing her own life for those she loves.

"
AHHH! This book. Was. Awesome. Complete. Awesome.
I finished this book a few days ago, but I've been too much of a blubbering idiot to get to reviewing this book. No matter how I phrase my words, it's still not worthy of this book. Allow me to try anyway...
From the very first word, I was hooked. It was so much fun reading this book, I very literally couldn't keep my mind off this book. If I wasn't reading it, I was thinking about reading it. I could go on, explaining all the wonderful reasons why I loved this book, but, honestly, it was all so good, from the characters to their conflicts to the plot and how everything was set up, it was all very, very beautifully written. Not much more I could say, this is practically the highest praise I could ever give. This book was concentrated awesomeness. YOU HAVE TO READ IT!
Ok, there is this one teeny tiny thing I didn't like as much as the others (spoiler)...
Kat dies! Let's just let that sink in for a moment shall we...?
Ok, so Kat dies. WHY? Right from book 1, we all knew it was inevitable, but WHY? These people are trained zombie slayers for crying out loud! They heal themselves with fire! Fire that comes from their hands! They can reverse the zombie poison! They can do so many more awesome things! WHY!? Why couldn't they have found the time in their busy lives to also find a cure for Kat? GRR!
Aaaanyways, it was only a very minor detail that I wished could have been different, but alas, it is not. So I've accepted it, and moved on.
This was supposed to be the last book, but apparently, it's not! Allow me to express my glee and overjoyed-ness: Yippee! It's not over! Wahoo! More! Can't wait to read the next one!
____________________________________________________________________________________
Title: A Mad Zombie Party
Read: Nov. 30-Dec. 7, 2015
Rating:
3 of 5 stars
Pages: 448
Synopsis from Goodreads:
"The enemy has risen from the grave. Together we slayers must stand, or one by one we will fall.

Ali Bell's crew of zombie slayers thought they'd won the war against Anima Industries, the evil company responsible for capturing and experimenting on zombies in an effort to discover the secret to immortality. In the last epic clash, the slayers lost many of their crew and closest friends. But Frosty, the ice man himself, has not recovered from one casualty in particular — the love of his life, Kat Parker.

On the path to self-annihilation, Frosty receives a message from beyond — Kat's spirit returns, insisting he partner with rogue slayer Camilla Marks. Frosty will do anything for Kat. Except that. Camilla's betrayal caused Kat's death.

But when Anima rises from the grave stronger than ever, Frosty, Camilla and all the slayers will have to work together to survive. And one broken slayer will learn that sometimes the line between hate and attraction is blurred... and the road to redemption may mean letting go of the past and grabbing hold of the future."
So! I loved, loved, loved the first and second, AND third books in this series, and I thought it would end with that fabulous finale...but it didn't. There was a fourth book...and here it is. At first, I was overjoyed at the idea of getting to read another book in this series, because this series is BEYOND awesome...buuut, after I read the synopsis...sigh...I was disappointed.
This book is written from different perspectives (I was so looking forward to reading from Ali's view, but ugh...): Milla (the girl who betrayed the crew), and Frosty (the heartbroken one). They hate each other, but they both fight against the same evil...also, Milla realised her mistake from last time and is trying to atone for them.
Kat Parker (the dead girl) has become a witness and has come back to bring Milla and Frosty together...there was a vision...a vision where Milla would save Frosty from dying...so...ta-da! That's how their stories intertwine. So...seeing as how they hate each other, yet are forced to be together by Frosty's friends...you can see how this story will end, right...?
Anyhoo...this book wasn't bad, it just wasn't anywhere near as awesome as the previous books...the switching perspectives also confused me at some points...
The cover...hmm...is that Milla? Or is it Ali? I can't tell...grr...
I can't really point out any outstanding good points about this book, unfortunately...I mean, it was still GOOD, just...sigh...I suppose my expectations were set far too high?
Well...suffice to say...I'm glad Frosty had his HEA, and most, if not all loose ends were tied up nicely, we even got some info on their kids...!