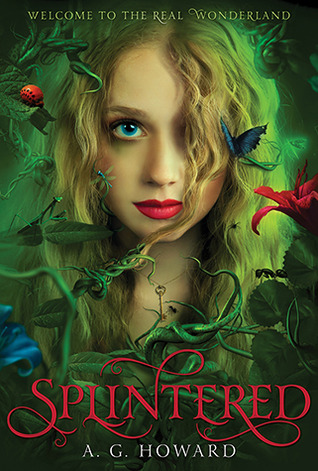 Read: Feb. 3-March. 3, 2016
Rating:
3 of 5 stars
Pages: 371
Genres: Fantasy, romance, retellings
Blurb from Goodreads:
"
This stunning debut captures the grotesque madness of a mystical under-land, as well as a girl's pangs of first love and independence.

Alyssa Gardner hears the whispers of bugs and flowers—precisely the affliction that landed her mother in a mental hospital years before. This family curse stretches back to her ancestor Alice Liddell, the real-life inspiration for Lewis Carroll's Alice's Adventures in Wonderland. Alyssa might be crazy, but she manages to keep it together. For now.

When her mother's mental health takes a turn for the worse, Alyssa learns that what she thought was fiction is based in terrifying reality. The real Wonderland is a place far darker and more twisted than Lewis Carroll ever let on. There, Alyssa must pass a series of tests, including draining an ocean of Alice's tears, waking the slumbering tea party, and subduing a vicious bandersnatch, to fix Alice's mistakes and save her family. She must also decide whom to trust: Jeb, her gorgeous best friend and secret crush, or the sexy but suspicious Morpheus, her guide through Wonderland, who may have dark motives of his own."
Review
Well, another book has been checked off my TBR after spending...approximately a few eons, give or take a few days...
I've heard so many good things about this book, but I've never gotten to reading it...it was never in the library, so I finally put this book on hold.
Now...people any of you people accuse me of reading this book so ridiculously slowly...I must defend myself. I had other books I had to finish...I had DEADLINES! I had an ARC I had to finish...and a book club book...AND my English book...so, you can't blame me for not being able to finish this book quickly, right? Right.
OKAY! Now.....
This book started out all right, I suppose, a bit slow, but not too bad.
Actually, no...scratch that...I think this book had a way of making something drag on for a lot longer than necessary. I think part of it had to do with the loooong chapters...I despise long chapters....they make the book feel so much longer.
I liked the
purple colour
of the text. You know how all books have black words? Well, purple was a lovely change (it's my favourite colour too!).
I found the...err...politics of this book to be confusing. I'm a very simple-minded child, so anything even remotely complex gets churned around my brain a few million times before being tossed out...with me, understanding nothing.
There were all these queens (Red Queen, Ivory, Grenadine...I'm still not sure which queen belongs to which court) and all these political betrayals...it was maddening. Who was good? Who was bad? Who was betrayed?
I thought
the ending was a bit rushed
...and I wasn't quite satisfied. After spending some three hundred pages reading about Alyssa trying to find a cure, and fulfill a quest...she went back...and well...I'm not sure HOW to describe this exactly...but...suffice to say...something was missing....
Gosh, I feel like I'm complaining too much...if I had to name one thing I DID enjoy...it would be the "errors" Lewis Carroll made in
Alice in Wonderland
. You know the white rabbit? And the oysters and the walrus? The caterpillar and the Mad Hatter? I loved how the author put a much darker twist to them. And the "true" story behind Alice and her relationship to the Red Queen...wow...THAT was amazing.
Well...not the best first book, but I haven't given up on this series just yet. Although, I'm in no rush to find the second one.....
Have you read any fairy tale retellings?
Were they darker (because retellings are usually darker)?