Hey guys! So....this is one of those series where I've read some books a long time ago...and didn't review them....so um...bear with me as I try to write a short and simple review of a book I've read more than four years ago.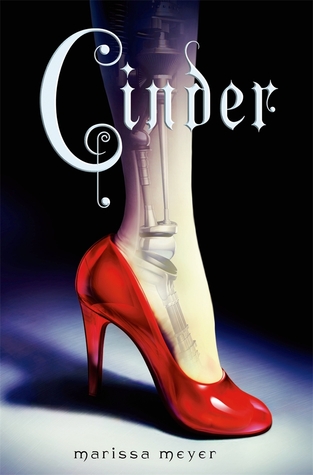 Read: sometime in 2013
Rating: 4 out of 5 stars
Format: 395
Publication: January 2012 by Square Fish
Genres: fantasy, romance, action, adventure, dystopia, sci-fi
Blurb from Goodreads:
Humans and androids crowd the raucous streets of New Beijing. A deadly plague ravages the population. From space, a ruthless lunar people watch, waiting to make their move. No one knows that Earth's fate hinges on one girl.



Cinder, a gifted mechanic, is a cyborg. She's a second-class citizen with a mysterious past, reviled by her stepmother and blamed for her stepsister's illness. But when her life becomes intertwined with the handsome Prince Kai's, she suddenly finds herself at the

center
of an intergalactic struggle, and a forbidden attraction. Caught between duty and freedom, loyalty and betrayal, she must uncover secrets about her past in order to protect her world's future

.
Okay. So. Cinder. Judging by the generous rating I gave it. I've learned one of two things. Either I haven't read enough books to rate books as ruthlessly indifferently as I do now, or...it was a pretty good book. I'm hoping it's the latter.
I believe this was the first retelling I've ever read, and it was...a fun read! And the interactions between Cinder and Kai were highlights, I think.
_________________________________________________________________________________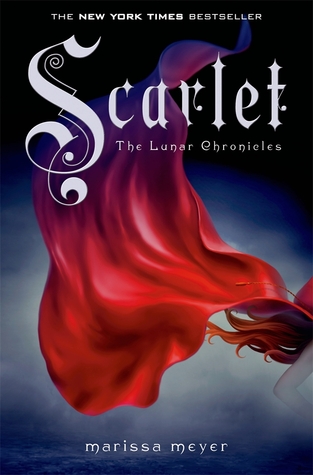 Read: Nov. 7-15, 2013
Rating: 5 of 5 stars
Format: hardcover, 464
Publication: February 2013 by

Feiwel & Friends
Blurb from Goodreads:
Cinder, the cyborg mechanic, returns in the second thrilling installment of the bestselling Lunar Chronicles. She's trying to break out of prison—even though if she succeeds, she'll be the Commonwealth's most wanted fugitive.
Halfway around the world, Scarlet Benoit's grandmother is missing. It turns out there are many things Scarlet doesn't know about her grandmother or the grave danger she has lived in her whole life. When Scarlet encounters Wolf, a street fighter who may have information as to her grandmother's whereabouts, she is loath to trust this stranger, but is inexplicably drawn to him, and he to her. As Scarlet and Wolf unravel one mystery, they encounter another when they meet Cinder. Now, all of them must stay one step ahead of the vicious Lunar Queen Levana, who will do anything for the handsome Prince Kai to become her husband, her king, her prisoner.
I remember thinking....whoa! This is a big book. I will conquer it by reading it. And then I read it.
Now judging from this very generous rating I gave this book...this book must have really been spectacular. Although, strangely, this is the book I remember the least about. Interesting.
_________________________________________________________________________________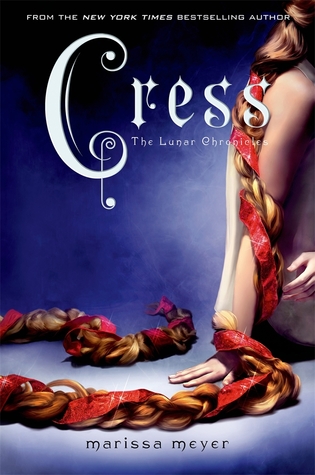 Read: Aug. 31-Sept. 29, 2016
Rating: 4 out of 5 stars
Format: paperback, 582
Publication: January 2015 by Square Fish
Blurb from Goodreads:
In this third book in Marissa Meyer's bestselling Lunar Chronicles series, Cinder and Captain Thorne are fugitives on the run, now with Scarlet and Wolf in tow. Together, they're plotting to overthrow Queen Levana and prevent her army from invading Earth.
Their best hope lies with Cress, a girl trapped on a satellite since childhood who's only ever had her netscreens as company. All that screen time has made Cress an excellent hacker. Unfortunately, she's being forced to work for Queen Levana, and she's just received orders to track down Cinder and her handsome accomplice.
When a daring rescue of Cress goes awry, the group is splintered. Cress finally has her freedom, but it comes at a higher price than she'd ever expected. Meanwhile, Queen Levana will let nothing prevent her marriage to Emperor Kai, especially the cyborg mechanic. Cress, Scarlet, and Cinder may not have signed up to save the world, but they may be the only hope the world has.
Review
I'm actually....surprised at my own rating....

This book started out unusually slowly for me, but now that I think back on the other books in the series....

Huh.

Can I just comment on how incredibly monstrously HUGE this book was?! And how I brought the book in a bag everywhere I went? Do you know how bulky and heavy it was? But once I got through the first half of the book or so, I didn't mind because I was excited to read more! And, once I hit the point where I was so eager to read more, I didn't even notice how thick the book was anymore! And I speeded through the rest of the book....woo!

Anyways. When I was reading through the book, I thought it went excruciatingly slowly...it seemed like the book would go on about one scene for pages and pages and pages....and I got...bored.

But! When I look back on the book as a whole now, I realise that it wasn't that bad! Yay! Every scene was perfect, and it helped me learn more about the characters, and truly appreciate the character development! So, yay! Again!

Yes, so. I've looked at the next book....Winter.

And.....this one is nothing compared to Winter!

Aaah! Over 800 pages?! Whoa!

Gimme!
________________________________________________________________________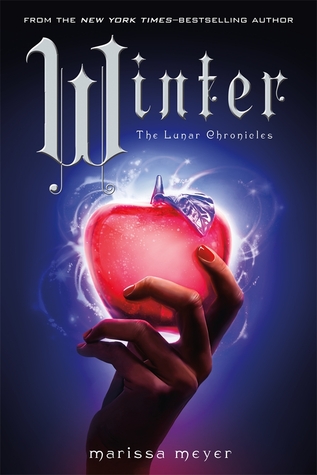 Read: Oct. 15-24, 2016
Rating: 4 out of 5 stars
Format: Hardcover, 832
Publication: Novem
ber 2015 by
Feiwel & Friends
Genres:
Blurb from Goodreads:
Princess Winter is admired by the Lunar people for her grace and kindness, and despite the scars that mar her face, her beauty is said to be even more breathtaking than that of her stepmother, Queen Levana.
Winter despises her stepmother, and knows Levana won't approve of her feelings for her childhood friend--the handsome palace guard, Jacin. But Winter isn't as weak as Levana believes her to be and she's been undermining her stepmother's wishes for years. Together with the cyborg mechanic, Cinder, and her allies, Winter might even have the power to launch a revolution and win a war that's been raging for far too long.
Can Cinder, Scarlet, Cress, and Winter defeat Levana and find their happily ever afters? Fans will not want to miss this thrilling conclusion to Marissa Meyer's national bestselling Lunar Chronicles series.
Review
Woooooo! This is a....really thick book.
But, no matter, because I enjoyed it quite a bit, and there wasn't a single dull moment!
None I remember, anyway.
Hmm...
I have to say....the ending wasn't quite what I'd hoped it to be....there were four books...and most of them were pretty thick! Each story added more and more.....and more and more to the characters and this...world....so.....you can't blame me for wanting a more....conclusive ending, right?
Right.
I'm really hoping for another book....you know....one that gives me a little snapshot of their lives now? After the battle is over? The ending just seemed way too rushed for me! UGH.
Oh wells. Besides that, I have nothing else to complain about, so....yay! Everything else was lovely and full of action! Woo!
What's a good retelling that you've read or want to read?